---
The Walk of Life
---
Day 1 - The Cascades
August 24, 1998
Seattle - Arlington - Cascades N.P. - Winthrop

Shopping in Arlington
This was the last place to do real shopping till Calgary. Some of us had to get the last parts of their equipment for the trek like bags or raincoats (we hardly used). But mostly this stop was used for shopping food and drinks like we often did afterwards.
Cascades N.P.
On the way through the park we stopped at the Visitor Center. They had an interesting display of natural phenomens and a video show. The video was about the north american wildlife and nature and was made in a special modern fashion.
The second stop was along a small lake. We had a beautiful view and took our first photos.




Walk to the Blue Lake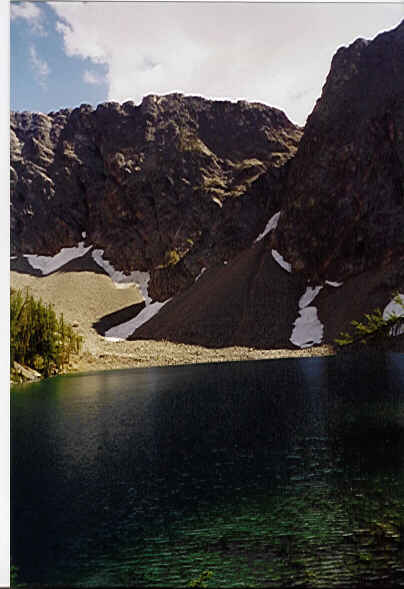 Later - we already left the National Park and were driving along the Highway in direction of Winthrop - we stopped and Mimmi practiced here 180s to get to here parking spot (more on this later). We were informed that we started for a 'short hike' up to Blue Lake and back. This hike was supposed to take only 3 hours.
The way up to Blue Lake took us about 45 minutes ad lead through a beautiful forest. On the way up we crossed two people carrying a snow board. What did we have to expect?
Blue Lake presented a great view. Clear blue water. Snow fields in the back. And behind that the huge brown rocks. We spent our time taking photos of the scenery and our first unofficial group picture (of which I unfortunately have no copy).
After about an hour we started heading back down. On the way a group of hikers crossed us. They were much faster than we were. They came from a two days hike and were on their last miles back to their vans.






Camping in Winthrop
Winthrop was our first camping night. But before that we had to find our campground. After one or the other 180 turn coming back to the city and out again we finally found our camp ground which was situated at a nice little lake. After unloading the van for the first time, work began. Lesson in tent setup. Finding tent mates (who snores? - he got a tent on his own). Setting up tents. Setting up the kitchen. Then while Mimmi was preparing dinner we had enough time to go swimming and taking showers and relaxing in any other way. After we enjoyed a good pasta dinner we got all the instructions we needed: cooking-, dish-washing- and van-cleaning-crews and -schedules, special jobs for van loaders (Mario) and food daddy (David), rules and the next days itinerary. The campfire evening was finished by the later dutch-belgian-swiss core night crew.
---
Day 2 - Okanagan Valley