---
The Walk of Life
---
Day 16 - Vancouver
September 8, 1998
Vancouver sight seeing

Work first
There was some work to be done first. I should have checked with my airline if the change of my flight from Sunday to Monday worked. But I couldn't find an office of Delta Airlines although there must be one. So after some time I gave up and went visiting the public library. Checking mail was up. I managed to make my reservation and had to pay my $5 for an hour in advance. So I had time to eat some of my sandwiches for lunch. Checking email went fine although I had to delete about 2000 mails because by sending an email to friends from Calgary I created an auto reply loop.
Pacific Space Center
After lunch I went to visit Vancouver Space Center which is located Vanier Park. Unfortunately the Vancouver Museum and the Planetarium which are located in the same park where closed (but there was a discount on the entry fee). Vancouver Space Center does not really compare to Kennedy Space Center. But still it has a lot of interesting things to see. One art you may not see anywhere else is all about Canada in space. There was also a simulation of a flight to Mars included. It's based on scientific ideas of building a multi-national space station and a base on Mars to start developing life on Mars. After also walking a bit around in the park the bus took me back to downtown. Btw it's worth buying a day pass of Vancouver public transportation for such a day. It includes all buses, ferries and local railways.
Downtown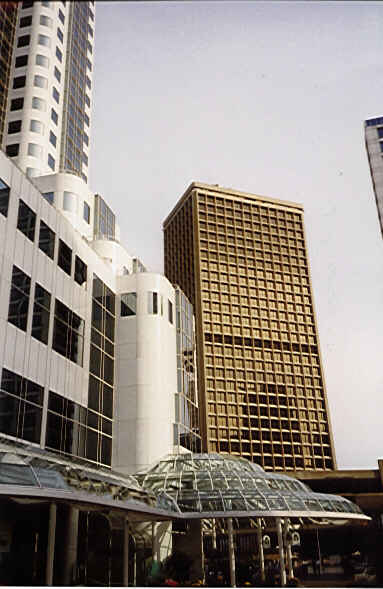 Since there was not too much time and energy left i wanted to see some essential places before shopping. So I went back to Canada Place to visit Vancouver Trade and Convention Center. This center is an impressing building built for the world exhibition. It contains shopping areas, ad IMax Theater trading areas, offices and the ferry terminal. After that I tried to catch the last possible Seabus to North Vancouver but I missed it because you have to get back to the main station to enter the Seabus terminal. So i decided to go shopping. Btw. the only shopping I did before the Museums was a visit at Virgins without buying anything (there was too much).
We spent our evening on Dogwood campground.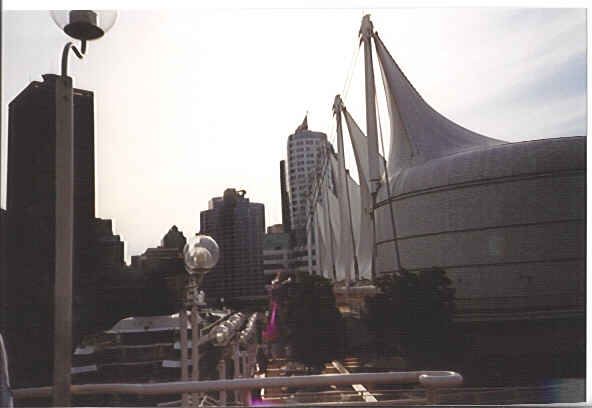 ---
Day 17 - On the way to Tofino