---
The Walk of Life
---
Day 6 - Calgary
August 29, 1998
Banff - Calgary Olympic Park - Calgary - Banff

Calgary Olympic Park
After a drive of about an hour on Canada 1 we arrived at the 1988 Olympic site in little outside Calgary. The one hour we got to explore the park was just enough for a rush through all the places. First we made our way up to the ski jump tower by seat lift. From the ski jump tower we enjoyed the great view over the park and the Calgary area. We could even see Calgary city with Calgary tower. The picture taken by one of the guards is usually impossible since visitors are not allowed to step down the stairs. But there was nobody else and so ...
Next stop was the bob run. That's the site of the movie 'Cool runnings' too. It looks much less impressive without ice. Only the lower end was iced it it was possible to run down in a bobsled. But nobody of our group did. On the hill between the bob run and the ski jump we passed the skiing area where slaloms took place. The last place to visit was the museum and the hall of fame. The main attractions there are the bob- (built for two persons but four fit in) and ski jump simulator.
Calgary City
Next stop was Calgary city. After a short sightseeing by van we stopped at a central parking area at 9 Ave. SW and Center St. Calgary public library offers free internet access which I used to check my email. Visitors take care. You get free unrestricted access but it's not possible to make reservations, employees have to help you get started and access happens through good old LYNX (for those who don't remember, that's one of the first text only web browser).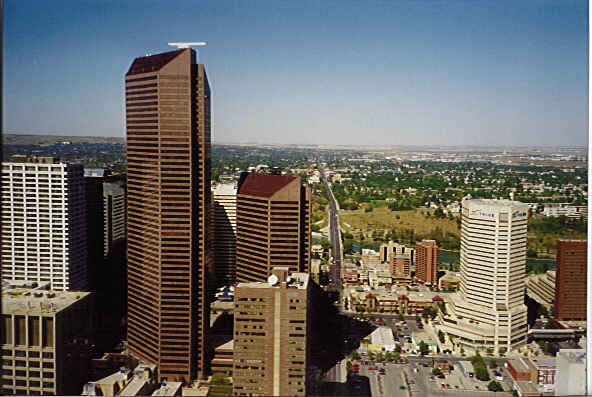 Next stop was Stephen Avenue Walk in 8 Ave. SW. That's the main shopping avenue. It also has some (international) restaurants, cafes and takeaways. After that, Calgary tower, which is still close (some hundred meters away) was the place to visit. Calgary Tower is 190.8 meters high. To get up you can choose between 762 steps or elevators. From the top you get a good view over Calgary. Besides the observation deck you also find a Bar and Grill, a revolving dining room and some souvenir shops.

My last visit in Calgary was Glenbow Museum. This Museum was not supposed to e open but it still was (and so I was one of the only ones of our group who was there). Glenbow has big displays of Canadian history and culture. You get to learn a lot about native Canadians and the Europeans coming over and taking land. It also has some changing displays about other cultures, arts and a children's area. Glenbow is a interesting place but it's worth taking enough time to spend at Glenbow.
Calgary has much more to offer than this. But having only about seven hours you have to choose from lots of options. So I had to leave away China Town and the Chinese Cultural Center as well as Eau Claire Market and many other places to visit.
Back in bear country
Coming back to tunnel campground the surprise was perfect. All our food had gone from the shelter. Nobody knew anything. So while some of us went doing their laundry Mimmi-Shawn went looking for our food. Cooking would get delayed too. She finally found all our goods at the ranger station. They took it away because in bear country it was not allowed to let food unobserved anywhere. But there was also a positive side to the story. The judge was 'cute', we had new stories and the fine was only $50.


---
Day 7 - The Banff walk