---
The Walk of Life
---
Day 9 - Banff to Jasper
September 1, 1998
Banff - Icefield parkway - Columbia Icefield Center - Jasper

Columbia Icefield Center
Columbia Icefield is about a 2 hours drive from Banff along the Icefield parkway. After entering Jasper N.P. it's about 8 more miles and to the left you have Athabasca Glacier and to the right the big building containing the Columbia Icefield Center.
On the lowest floor the center has a lot of displays about the Icefields and Glaciers of the region, about their history, wildlife and discovery. It's worth looking at and it's free. The middle floor (entrance level) has tour desks, visitor and weather information and a souvenir shop and the top level contains the cafeteria (Hagan Dasz 'triple brownies' ice-cream!) and the restaurant.
Glacier walk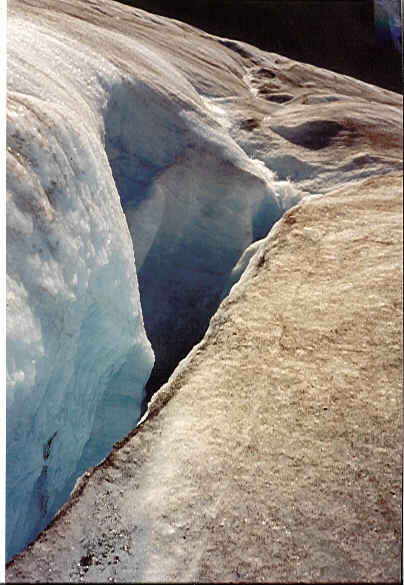 After an early short lunch at the parking we met our Glacier guides at 11 am at the glacier parking. We all had the chance to get warm cloths (which is extremely necessary) including hats, gloves and 'Gletschereisen' (not to be worn at that time). After short instructions and making 2 groups we started our way up to the glacier. On the very beginning of the glacier we had to mount our 'Gletschereisen'.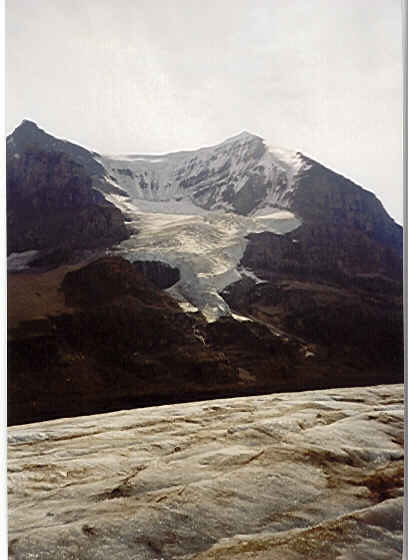 Although we got instructions with special tourist hints our Florida girl managed to do as expected (whole story available on request). From there we started a 3 hours walk first up the glacier looking at many crevasses. we enjoyed it and got to learn a lot. After walking all the way up we also saw the busses bringing the other tourists up and down. We were still on the glacier. It is almost impossible for untrained people to get up to the Icefield. And it take more than one day. So this was no option anyway. On the way down we passed some more crevasses and a scientific station where they measure growth and temperature of the glacier. It's melting drastically at the moment.




Athabasca Falls
| | |
| --- | --- |
| After a short stay at the restaurant we left towards Jasper. We took a short stop about half an hour before Jasper to visit Athabasca Falls. It's a series of quite small but powerful waterfalls. After a short stop we continued to arrive on Marmot Meadows campground on time. | |
Night out in Jasper
We decided not to cook that night. Instead we went for pizzas. After that we went to 'the place' in Jasper. Sorry, I already forgot the name, but it was the main central hotel with a bar and disco. The night was good enough to stay long enough to have to get a taxi back to the campground.
---
Day 10 - Jasper